The bedroom is one of the most intimate areas in every house. It is a private oasis of calm, a place of regeneration and rest. Its main task is to provide a comfortable sleep that is influenced by many factors. Apart from a comfortable bed, trendy accessories, and soft fabrics, lighting also has a huge impact on the quality of sleep. We want to give you a few suggestions on how to create a stylish and pleasant atmosphere in the bedroom.
When designing the bedroom, you should think about its function. It may be just a place with a bed and additional cupboards or a relaxation zone where we spend time reading books in the evening. Both those options require planning different lighting. The choice of lamps depends on the size of the bedroom. In a small and narrow room, a lamp that is too big may optically make the interior look smaller. On the other hand, in big bedrooms, such a lamp may not fulfill its purpose. In the bedroom, we usually distinguish two types of lighting: top lighting- on the ceiling and down lighting- placed next to the bed.
Ceiling lighting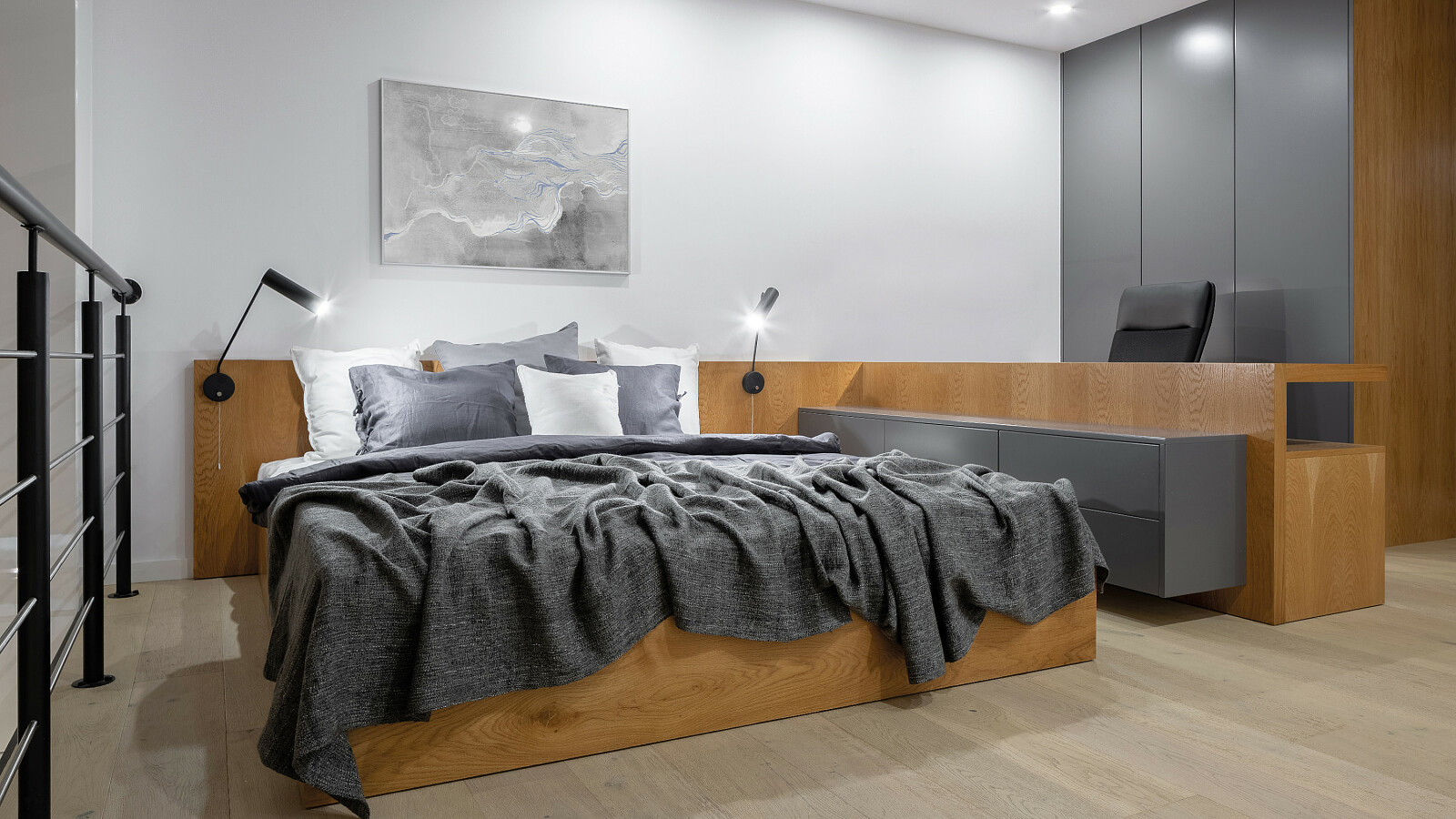 Installing a ceiling lamp in the center of the ceiling will evenly brighten up all space, giving a scattered light. In small bedrooms, we recommend choosing ceiling lamps with the displayed source of light from the Twig or Mili collection. These lighting fixtures don't have any shields of the source of light, and thanks to it, they emit unsubdued light and are a functional complement to your arrangement. Also, the lamp DOVER made with plywood, with three points of light, and in two colour versions (classic black and wood) will attract attention in modern and Scandinavian kitchens. In big bedrooms, it's worth choosing stylish plafonds that will be an alternative to suspended lamps. Their greatest advantage is the emission of a large amount of light and integration with low head rooms.
Elegant plafonds Viviane, made with fabric and available in universal colours will emphasise bedrooms arranged in various styles.
People who enjoy industrial and modern bedrooms will love the lamps from the Eye Super collection with one, three, or six points of light. One of the main advantages of the lamp is the possibility to adjust the light direction by moving its arms.
The geometric form and original design of the plafond Form will add character to every bedroom arranged in harmony with Japanese style- wabi-sabi. To create a cozy climate, you should consider choosing velvet or fabric lampshades from the Cone collection. If you are looking for something more subtle, choose a thin lampshade from the Barrel collection.
Magical atmosphere in your bedroom
Who doesn't like reading books or listening to music in bed? To add a cozy climate to your bedroom- install sconces. We recommend mounting them above the bedside table, around 70 cm above the mattress. Locating them in a place like this will make it easier to read books. Moreover, the emitted light will not glare at a person that sleeps next to us. If you are looking for something classy, you should consider the sconces
Chillin
. They integrate with modern, classic, and Scandinavian bedrooms. The sconces with two points of light have independent switch-keys that will help to adjust the lighting to your needs. Do you need subtle lighting in your bedroom? Sconces Wheel will do perfectly. Their source of light is a lightbulb G9 that lights the room with decorative light. Its delicate gilts will add intimacy and a rustic climate.
If you have more space, it's worth considering a floor lamp. You can place it beside the bed and integrate it with the style of the interior. A floor lamp Hotel Plus has two sources of light, and one of them serves for reading. When choosing lamps from the Barrel or Cone collection, you should think about complementing your interior with a floor lamp Petit. Combine a white or black base with lampshades in various colours and shapes. It will help you to create a functional and stylish space.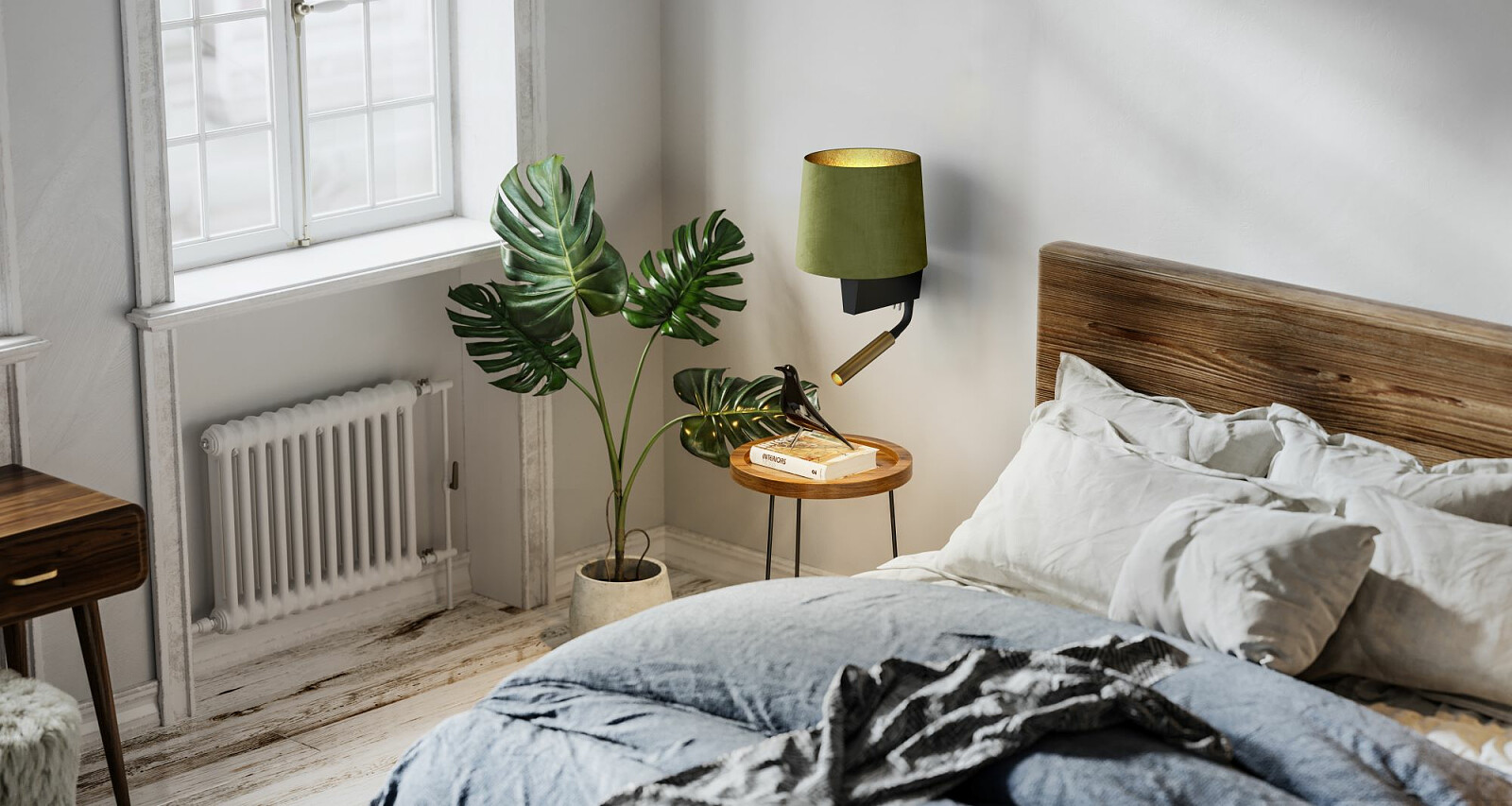 Lighting of the wardrobe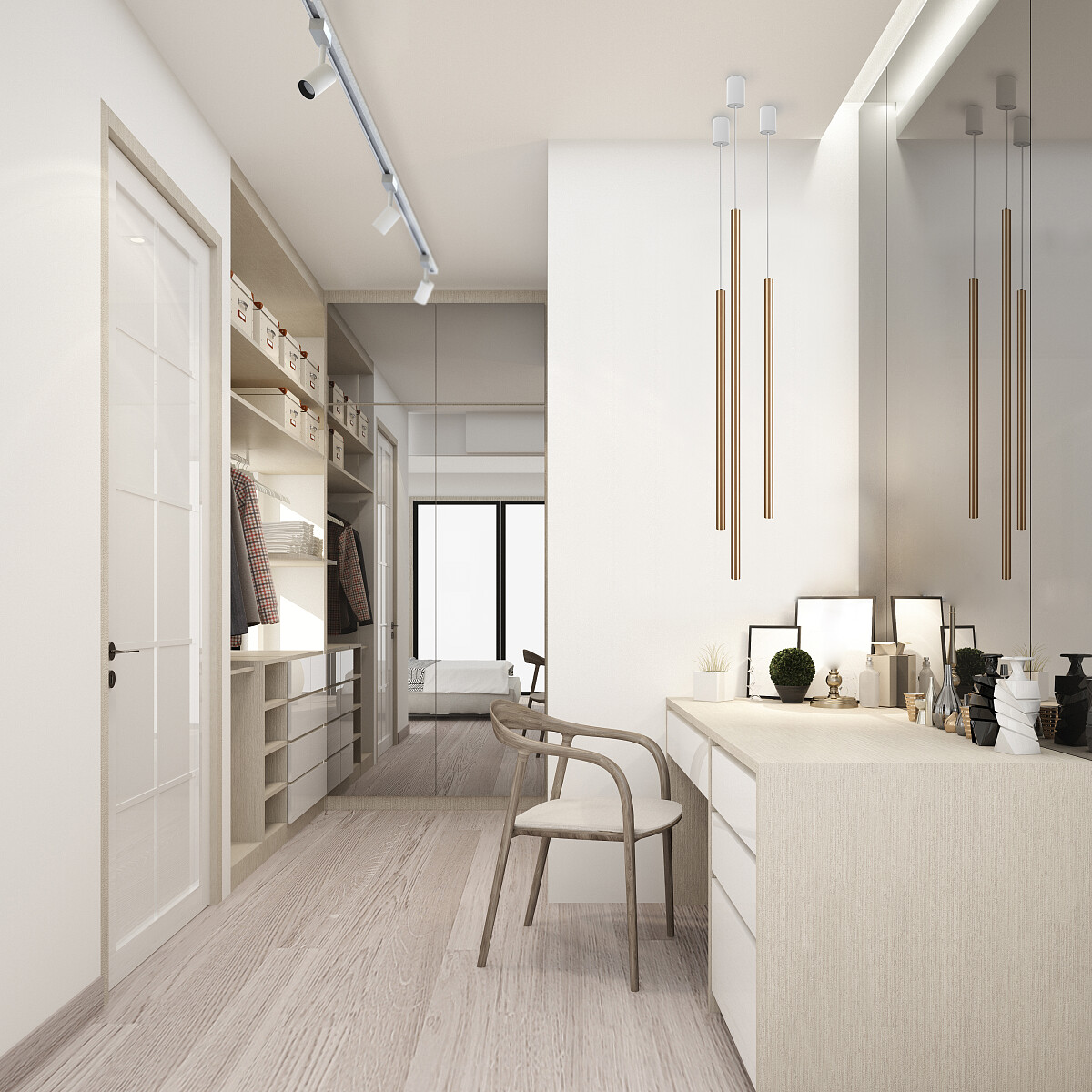 If you have some additional space in your bedroom arranged into a wardrobe, you should plan the lighting beforehand. When choosing the colour of lighting, it's best to pick neutral colour temperatures between 3000 and 4000 Kelvins. In such lighting, the colours of the objects will look natural.
In a wardrobe, a great solution will be recessed mounted ceiling spots Delta or Foxtrot. In slightly bigger wardrobes, it's worth choosing one plafond from the Agnes Round collection or lamps on tracks Profile Store Pro Led. You can change move the busbar lamps to the preferences of people in a household.
The best colour lighting for rest
The colour of lighting plays a key role in our bedroom and has a huge impact on comfortable rest. In bedrooms, we recommend lightbulbs that emit a warm light from 2200 to 3500 Kelvins. The warm colour of lighting makes an interior cozier and relaxation-friendly.
To feel comfortable and clear the mind, you should consider decorating your space with potted plants and accessories such as blankets, pillows, and soft carpets. In a bedroom, it's good to have one or two plants. They will be a decorative part of the arrangement. Also, they will clear the air from toxins, produce oxygen, and influence the quality of sleep. In such places, the best solution is to grow palm plants, for example, aloe, peace lily, or orchid.