High rooms offer great design possibilities, but you need to know how to make the most of them. A good lighting design will make even a hitherto overwhelming space friendly and tame.

High ceilings are rare in modern housing. It is different in the case of flats in tenement houses, where the ceiling sometimes reaches as high as 5 metres. Architects designing modern houses more and more often plan a living area open on two storeys. In this way, a spacious and bright living room is created, often combined with a kitchen and dining area. A representative interior, however, requires a well-thought-out arrangement for the whole to be aesthetic and functional.

How to arrange a high living room?
Being the lucky owner of a high living room, we need to think about how to use the space creatively. After all, a high living room allows us to use solutions that would not look good in a low interior. Just think of a dark colour that covers all the walls in a room - in a spacious living area, a dark colour will not disturb the proportions of the interior and will not create an overwhelming effect.

If you prefer to stay with white or light tones, let's use large areas of the walls as a gallery of paintings and photos. In this case, remember to hang decorations higher than eye level or make a two-level arrangement. An eclectic composition of decorations in various sizes and shapes will look particularly good. Those who prefer minimalism can choose a grid layout, in which case botanical or geometric prints in the same aesthetics will work well. Book lovers can think of a tall bookcase or even a library with a mezzanine that can be accessed by a ladder. Large mirrors are a great idea for high interiors. They enhance the sense of space, and at the same time catch light reflections effectively. In a high and spacious living room, we can confidently opt for massive furniture, large carpets and tall potted plants. All this will correspond to the scale of the room and harmonize with its proportions.

Loft or a modern barn with a mezzanine
The problem of high space can also arise when arranging a loft or a modern barn. In addition to practical tricks for furnishing and finishing the interior, think about using a mezzanine floor. The partially open space allows for a practical division and maximum use of space. Sometimes we can decide to build a mezzanine in the case of a flat in a tenement house or in older buildings with high ceilings. In such cases, the mezzanine space will usually be lower than in the rest of the interior, so it is worth arranging a sleeping area there.


How to illuminate the living area?
The amount of light in the room directly affects our well-being. It is excellent if you can afford high windows reaching the ceiling – this way we can bring a lot of natural light into the interior. But even then, don't forget about the lighting design – it is even more important in a high interior. Its placement, orientation and colour will make us feel well.
In a high living room, a large floor lamp will undoubtedly look good. Placed next to the sofa, it will be a perfect complement to the relaxation area, and at the same time an excellent decoration. The lamp ALICE with a lampshade suspended on an arched leg will do the trick. If you prefer more austere interiors, you can opt for the model COSMO – here, the soft fabric of the lampshade has been replaced with modern steel.
High interiors are not only about the living area – it also happens that we have a high staircase or hallway. This is where pendant lamps come in handy, as they not only illuminate the space, but also become an aesthetic decoration. Whether above the staircase, above the dining table or the relaxation area in the living area, a composition of several hanging luminaires is an absolute must have.
The Cameleon system for a high interior
How to plan the ceiling lighting of a high space easily and conveniently?
The CAMELEON system allowing the design of personalized lighting is an excellent solution. It is a fully customisable solution: we can choose each component and adapt the final product to our individual needs.
If you want a long pendant lamp that will match the proportions of a high living room, consider the appropriate shape of the lampshades. In the CAMELEON system, we can choose between slender and elongated tubes (e.g. CAMELEON LASER, CAMELEON STRAW or CAMELEON CYLINDER) and extensive spatial forms – e.g. CAMELEON LUKSOR or CAMELEON GSTAR. A composition of optically light, glass lampshades will also work great in the spacious interior: CAMELEON SPHERE or CAMELEON PEAR.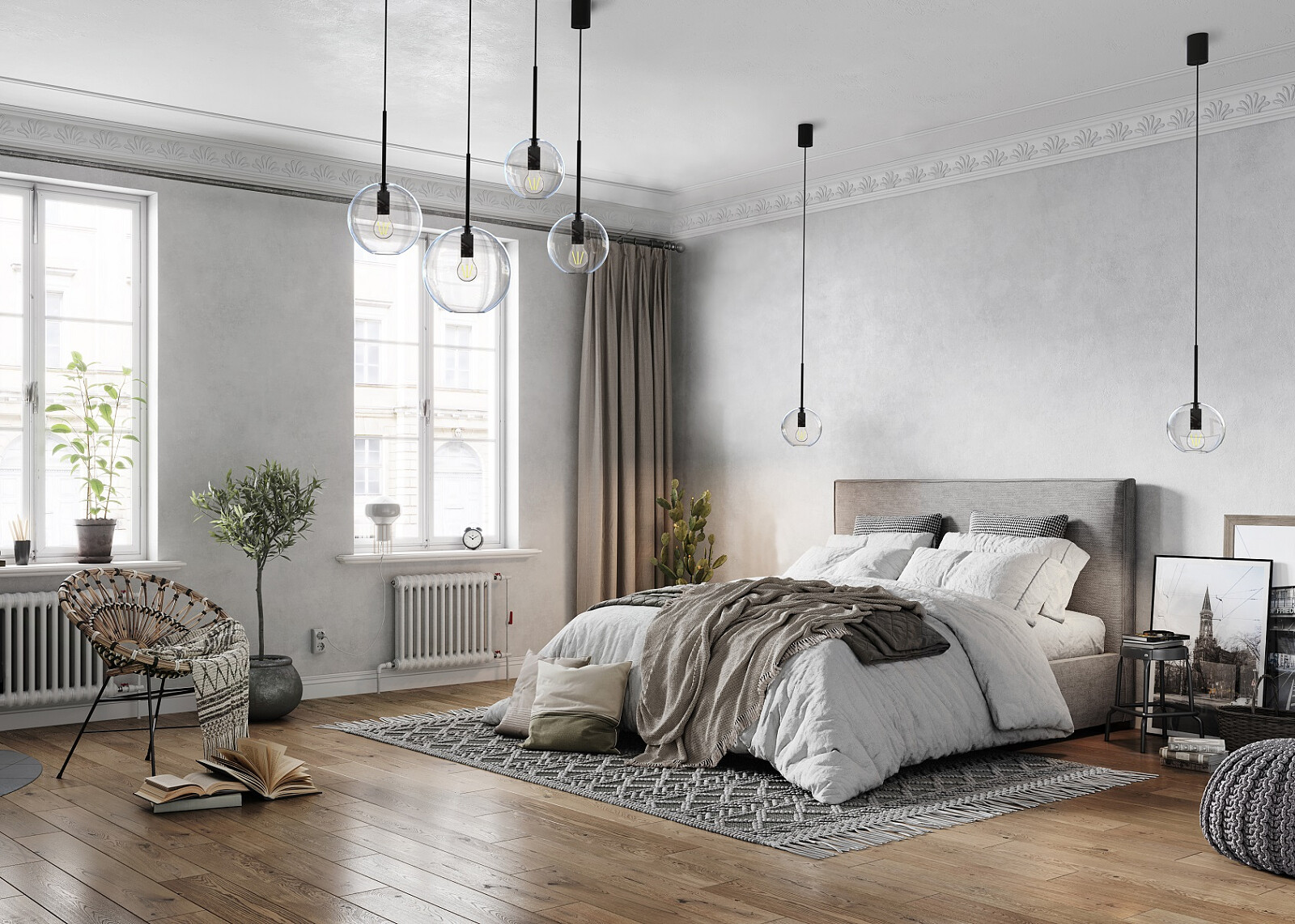 How does the Cameleon system work?
Creating the perfect lighting with the CAMELEON system is extremely easy and intuitive. The design of the composition begins with the choice of lampshades and luminaires, as well as the common box to which all the light points will be attached. One box allows the installation of up to 12 different luminaires. We then decide on the length of the wires, with the help of which we will create a unique tailor-made composition. Ten, the wires need to be matched with the appropriate number of mounting accessories.
The wires can be led to two different areas of the room: one box will allow us to hang some luminaires over the coffee table and some over the kitchen counter. When we want to give the interior a bit more austere character, we can opt for black wires and mounting elements. If we prefer to keep the wires inconspicuous, let's choose them in white.
Whether it is a modern, classic or modern glamour living room – with the right lighting, any high interior will become unique. A spacious living room decorated with beautiful lamps – can it get any better?

Author of the article: Wiola Imolczyk, designer Nowodvorski Lighting.