We spend so much time in our bathrooms every morning. It is a place where we can relax and rest after a hard day. Who doesn't want to come back home and lie down in the bathtub full of water, foam, and essential oils? The bathroom is like our home-Spa. We need to feel comfortable, cozy, and most importantly, safe. Let's have a look at lamps that will be perfect for your bathroom.
Pay attention to technical parameters!
Lamps in the bathroom need to be made with materials that are resistant to moisture and the action of water. An important aspect is to choose the lighting fixtures with a higher degree of protection IP. The higher degree it has, the more resistant to the action of water it is. Thereby, it is also safer to use.
IP21- minimal degree of protection that you can apply in bathrooms. It is resistant to the condensation of water vapor and the action of moisture. You can use this type of lamp above the doors or on the ceiling in a place where it doesn't have direct contact with water.
IP44- the protection class, resistant to the spouting of water from any direction. You can place the lighting fixture with the rate IP44 next to your bathtub, shower, or washbasin.
IP65- protects from the spout of water from different directions. You can place lamps with this degree of protection 2,25 m above the bathtub and shower stall.
Perfect lighting of the bathroom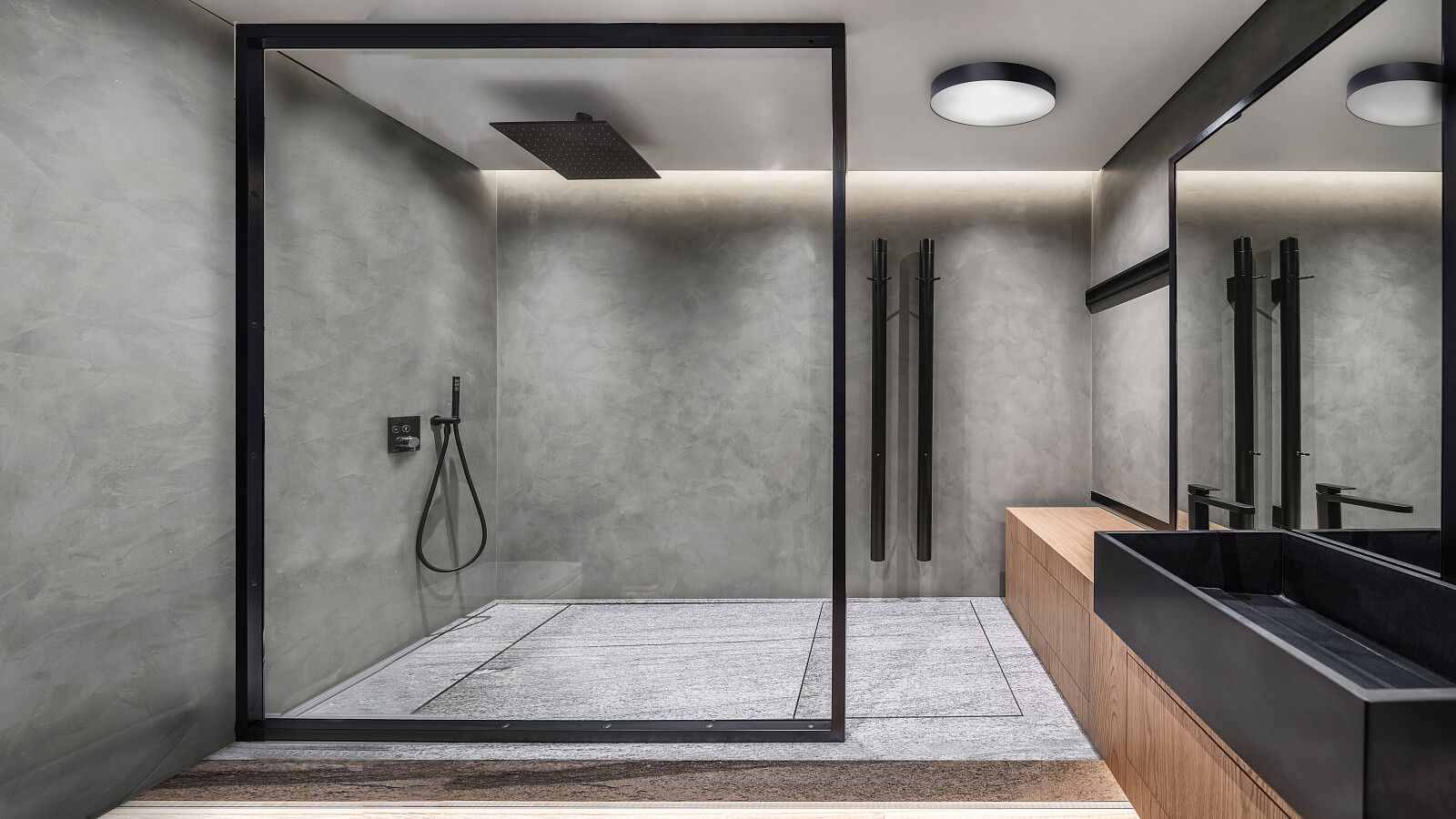 Bathrooms rarely have windows. That's why the choice of lighting should be planned and thought out carefully. In small interiors, it's enough to mount one suspended lamp. A good choice will be the PAN LED lamp available in two dimensions or plafonds from ARENA LED, MALAKKA LED, TAHOE collections. Such lamps will evenly diffuse the light and brighten up the whole room. Recessed mounted lighting fixtures GOLF, ECHO, and FOXTROT will be a perfect solution for bathrooms decorated in various styles. The FOXTROT lighting fixtures have coloured rings in a set. You can change them simultaneously with your accessories, getting a spectacular lighting effect. Place the lighting fixtures above the bathtub or shower, where they will add a cozy vibe.
Precise lighting above the mirror and washbasin is crucial because that is the place where we usually do the make-up and shave. Above the mirror, you can install a wall lamp VAN GOGH LED that has three colour versions (black matt, chrome, and white) or the sconceMIRROR LEDthat is easy to mount above the cabinet or washbasin. A light in this place can't glare or cast shadows on our faces. If you need a lamp to light mirror on both sides, we recommend sconces BRAZOS with one or three points of light, stylish sconces ICE BALL or the sconce SPARTA LED. Also, the suspended lamps from the ICE EGG collection, available in two lengths (99cm, 106cm) with the degree of protection IP44 will look amazing in a modern bathroom.
It is not without a reason that bathroom is called – a home SPA. A climate in our bathroom should aid relaxation. If you want to create a pleasant atmosphere and bring out the interior style, you should consider a practical and tasteful solution- sconces. For an elegant bathroom, we advise choosing the sconces BALI with milk-white or transparent shade.
What to look for when you are choosing a lamp for your bathroom
Always pay attention to technical lighting parameters. Choose lamps with at least minimal degree of protection The lighting fixtures have to be watertight, resistant to moisture, and safe for users.
Plan your lighting when preparing the project of the bathroom.
For your safety, avoid long, suspended lamps and floor lamps with IP under 21. Their contact with water may cause a short circuit of the electrical system and electric shock.
In the bathroom, you should consider an evenly diffused main light or pinspot.
Near the mirror and washbasin, you should choose a neutral light colour. In other parts of your bathroom, the best option is to choose a warmer light colour that helps to relax.
Plan more light spots in the interiors without windows or in those that have a dark fixture.
In the bathing zone, place the lighting at a safe distance from the bathtub(not less than 60 cm) and at least 2 meters above the floor.